What are GHG emissions
Greenhouse gases are gases in Earth's atmosphere that trap heat. They let sunlight pass through the atmosphere, but they prevent the heat that the sunlight brings from leaving the atmosphere. Refer to What are Greenhouse gases for the details.
Ways to slice & dice
There are different ways to breakdown the global GHG emissions. Just to mention a few:
By country
By sector
By societal needs
Household contributions
Emissions by Country
There are multiple ways to look at GHG emissions for countries. Some statistics show the emission per capita, other show the total emission for the whole country. The Aqal group uses a so called Varidewide chart to show both in one graph.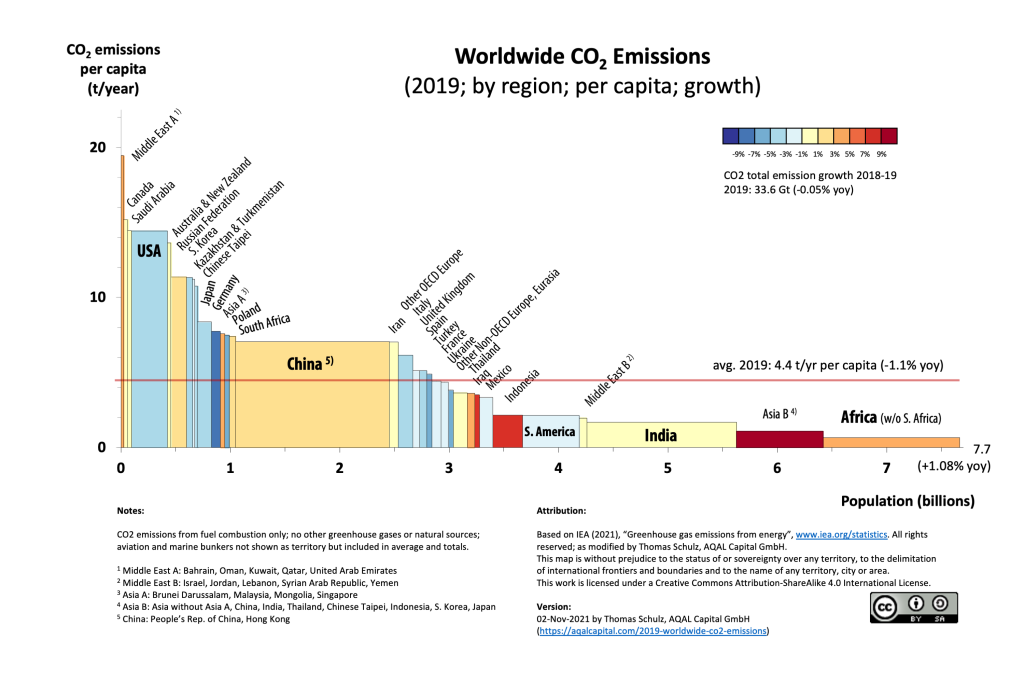 It shows that USA and China are major contributors. USA driven by a high emission per capita, China driven by a large numeber of people.
Emissions by Sector
Our World in Data is a great source of data for all kinds of topics.
Emsissions by societal needs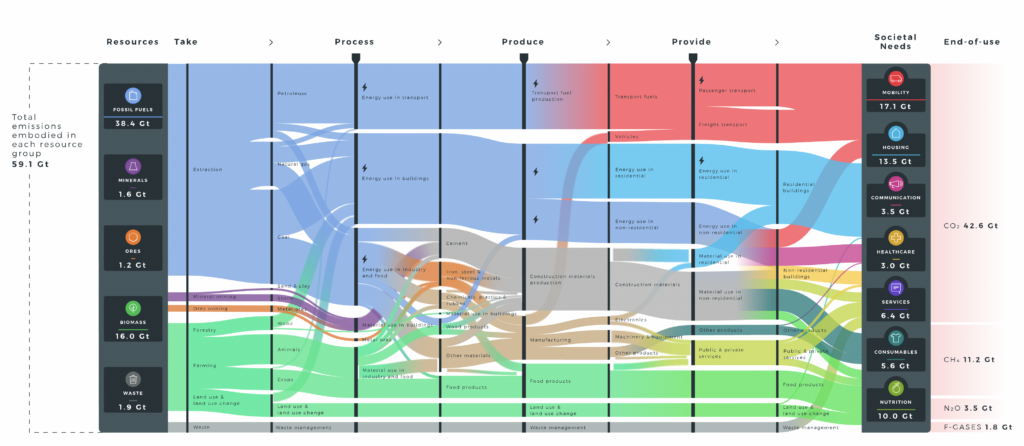 Emissions x-ray by Circularity Gap
Emissions by households
Household consumption contributes to 72% of global greenhouse gas emissions

It Starts at home? Energy Research & Social Science Volume 52, June 2019, Pages 144-158
The baseline carbon footprint (CF) assessments of households participating in the HOPE study found the mobility sector to be the most significant contributor to a median household's footprint. Emissions of greenhouse gases were accounted for by CO2 equivalents (CO2e).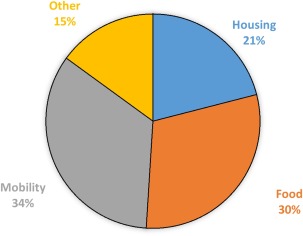 Our blog posts / Critical reviews
Must read articles / must see videos
Knowledge base
Carbon budgets

In order to stay below the 1,5 degrees Celsius, we need to stay within a ...

Setting meaningful targets: SBTi

At its core, the

SBTi

framework is a rigorous set of criteria about what emissions ...

Climate change consequences according to EC

Climate change affects all regions around the world. Polar ice shields are melting and the ...

IPCC – The 6th assessment report

The Working Group I contribution to the Sixth Assessment Report is the most up-to-date physical ...

Regenerative leadership

Author and entrepreneur Laura Storm is part of a new generation of sustainability professionals advocating for a ...

Let the environment guide our development

This TED talk is a must see. Even though it is a bit dated, the ...

CO2 emissions per person

So, which country uses most

CO2

, USA or China. The correct answer is: BOTH. How ...

Our world in data

Our World in Data is a scientific online publication that focuses on large global problems such as poverty, disease, hunger, climate change, war, existential risks, ...