I often look at Project Drawdown, as I think they do a fantastic job. I especially like their Table of Solutions and also one of their newest initiatives about what people in different job roles can do to start the work on supporting the companies they work in to become more sustainable. Further along in this post, you find a link to all the other job roles they have described, but I think they lack a description for Data, IT, and Technology Roles. To overcome this I have attempted to create that for them and if you are a Project DrawDown employee reading this then feel free to copy and re-use what you find interesting. I will then scrap this blog and link to yours instead.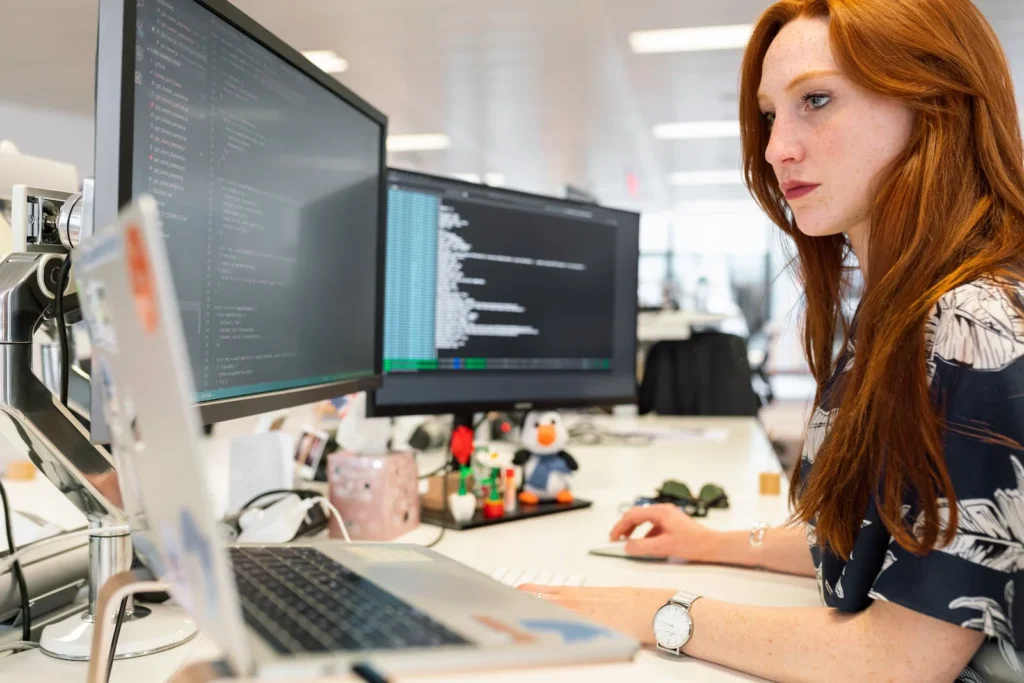 Data, IT, and Technology Roles
You probably like to work with data and technology. Maybe you are a software engineer, data scientist or got another technical, analytical, or data background. We all know that "You get what you measure", so looking into the numbers of the business is an important task when you are working with sustainability. If you don't know your current numbers, it is difficult to set a goal for the future, and if you don't measure how your business is moving toward its goals, you might get nasty surprises at the end of the year when you have not reduced your emissions with the amount you expected, or otherwise missed an important key goal of your sustainability targets.
The IT department often holds the key to all these data, as they reside in systems being developed by the IT teams, who maintain them, and know how to visualize the data and by this – make them available for colleagues who need them.
To make your Data, IT, and Technology job a climate job:
There are different areas you can look into, but to mention a few:
Responsible Computing
The emissions from data centers are bigger than from the whole flight industry before Covid-19 hit and are growing. Therefore coding is important. Every programmer and IT architect has a major role to play, when decisions around performance, cloud, images, storage, etc are made. Some good sources to look at are:
Responsible Computing was initiated by IBM and you can sign up to become a member.
Testers my get inspiration from: Capgemini Sogeti TMAP is a good place to look for inspiration on thoughts related to testing – Quality Characteristic – Sustainability | TMap
UXere and Designters may get inspiration from these webpages:
SUX Sustainable UX is a good resource for UX'eres
Get inspiration from this directory of Low-Carbon Websites and Climate Designers
Microsoft's Green Design Principles provides a helpful framework for designing digital products
Tim Fricks book: "Designing for Sustainability". It is from 2015 and a lot has happened since then, but still got some good points to consider when designing a new IT solution.
BIMA Sustainability Council contains a articles, links and ressources which can help reduce the environmental impact of your digital estate.
Suggest Ecosia as default search engine in the company
Data
Work with the sustainability team to identify what must be measured, identify metrics for the different reports that are required, and extract historical data before goal setting. In many cases, the sustainability employees don't even know that the data exists, let alone understand, how to get access to them and make them usable in their everyday work. So in short gather, store, and make use of data, plus show progress on projects via good data visualization.
Technology
There are lots of sensors that can be applied in a business. Eg for asset maintenance, where a message can be pushed to relevant employees if a machine starts making noise, start shaking, etc, IOT that can nudge employees to behave more climate-friendly, IOT for energy optimization, etc.
Re-pair and use hardware for longer time before shifting to new hardware.
Meetings
Nudge employees to choose online meetings over physical meetings by making them aware of Co2 footprint in connection with booking a trip. In connection with that, the IT department can also help with making safe and easily useable tools available for remote calls eg Microsoft teams, Zoom, Google, Webex, etc, digital white boards like Mural and Miro, plus plenty of others.
Ready to take action
Take Stock: Identify systems and old code that are not used anymore and find out if they can be removed. Look into where your IT department is having the highest Co2 emissions and work with your colleagues to lower the emissions. Look at your company's goals and try to connect them to your department to see if you can help with any of them. Another area may be looking into if your code holds biases.
Even small steps count and enough of them create a big impact if broadly adopted.
Make needed changes yourself or reach out to some else who can
What decision-making power do you have? Can you start implementing any of these actions yourself or do you need to align and get support from someone else? Start by sharing your interest in climate actions with other key colleagues and gauging their interests. It is often easier to make the changes as a group. Consult power-mapping(link is external) tools for help.
Need help making the business case?
According to the UK Design Council then 80% of the environmental impact of products, services, and infrastructure is determined at the design stage. Today there are lots of skilled designers out there working on thinking about sustainability while designing. They can help your company with ensuring you think sustainability into your new IT systems and technology solutions. One place to look for designers is on this page.
All the other job roles described by Project Draw Down can be found here:
I think they have done an amazing job of describing how we all in each of our different job roles can help our companies with different climate actions. We do not need to wait for the sustainability department to get time to visit our department and get the work started. Project Drawdowns suggestions are free to grab and use free of charge.
I expect this IT part to evolve, as you readers start commenting on it, so you may want to revert back from time to time to see new things that have been added.
Critical reviews
Must read articles / must see videos
Knowledge base
Facts & figures